No matter who you are, or where you are on life's journey,
YOU ARE WELCOME HERE
Join Us for Worship
In-person worship: Sundays at 10:00 a.m.
Our doors are open for in-person worship each Sunday at 10:00 a.m. Masks are currently optional. Masks will continue to be worn in the areas of the nursery and young children. We are committed to keeping our members and friends as safe as possible. We will also continue to offer for our remote members and visitors the live stream service, listed below.
Online Live Stream Worship Service: Sundays at 10:00 a.m.
Click here to live stream our Worship Services or view our Progressive Christian Bible Study.
We are Hiring a Child Care Provider
The Child Care Provider supervises children involved in Children's Ministries Programs.  The main role of the Provider will be on Sunday mornings in the Beam Nursery, but there will also be Sunday morning programs that will involve caring for children through fifth grade.  Opportunities for additional hours will be offered to the Provider for church events and meetings in which child care is needed.  To learn more CLICK HERE. To apply, send your resume and cover letter to ithacafccchildren@gmail.com.
Ithaca Sanctuary Alliance
With the support of the Ithaca Sanctuary Alliance (ISA), the First Congregational Church of Ithaca (FCCI) in July 2020 welcomed a teen mother and her young daughter into the apartment they built to provide sanctuary for immigrants at risk of deportation. Drucila Francisco Mateo and Jessie lived at the church for more than two years.
In the fall of 2023, we welcomed a new family of sanctuary guests. If you would like to view the coverage of the press conference held on September 27 at FCCI covering our sanctuary guests and work that Ithaca does to support refugees, please follow the link to WENY News.
Meet Darlynne Overbaugh
Our New Director of Children's and Youth Ministries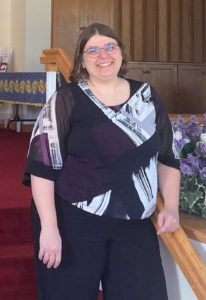 Guns to Garden Tools
Church members are working on a creative solution to gun violence. Partnering with RAW Tools we are considering becoming a "disarming site," which means FCCI-ers would get trained on disarming guns so the pieces can be melted down by blacksmiths and transformed into garden tools. It's called "guns to garden tools."
Harvest Festival Fundraiser
Save The Date - October 14
Join us for a dinner and show.  There will be a chicken and biscuits dinner (also a vegetarian option) in Fellowship Hall at 5:30 p.m. The cost of the dinner is $12.00/individual and $20.00/family.To RVSP to the dinner, please email the church office.
The dinner is followed by an evening of music and laughter in the Sanctuary at 7:00 p.m. The event will also be live streamed on the FCCI YouTube channel. The admission to the show is a good will donation. Proceeds will support the First Congregational Church of Ithaca.
Neighborhood Food Hub
Now through September 30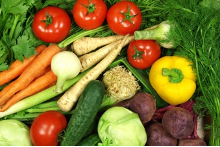 The Outreach Action Group is hosting a Neighborhood Food Hub for the Friendship Donation Network. Our food collection will go to them!
Our collection spot will be now through the end of September. A cooler will be outside the front entrance from 9:30 to 11:30, Sunday mornings. Please consider donating extra produce from your refrigerator or garden at that time!
If you have questions or would like to volunteer, please contact Lynne Whetzel, Susan Lewis, Sandy Galbreath, Nancy Stewart, Patricia Covert or Brad Buchanan.
We are open for in-person worship at our Sunday 10:00am service. See above for details. We will continue to offer our worship services online as a live stream each Sunday as well.
If you're interested in subscribing to Highland Highlights, our email newsletter that contains all of our latest announcements and news, please contact the church office.
Visit our YouTube channel to see recent Sunday Worship services, Sunday morning previews for children and youth, and Progressive Christian Bible studies.