No matter who you are, or where you are on life's journey,
YOU ARE WELCOME HERE
Join Us for Worship
In-person worship: Sundays at 10:00am
Our doors are open for in-person worship each Sunday at 10:00am. No sign-up is required. Based on the latest health guidelines, we're encouraging all who attend to wear a mask, regardless of their vaccination status. We are committed to keeping our members and friends as safe as possible. We will also continue to offer the live stream service, listed below.
Online Live Stream Worship Service: Sundays at 10:00 am
Click here to live stream our Worship Services or our weekly Progressive Christian Bible Study.
Sanctuary Alliance Fundraiser
The Ithaca Sanctuary Alliance fundraiser in December was a great success! We sold 260 meals of Guatemalan stew, rice, tamalitos, and champurradas, a Guatemalan dessert. It raised $8,700 for Sanctuary Ministries!
Giving Tree 2021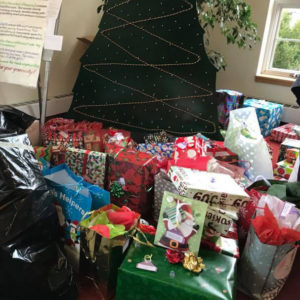 Many thanks to all who helped make our Giving Tree a success this holiday season. The gifts from our church community supported clients of the Learning Web, BeechTree, Family & Children's Service of Ithaca Youth & Outreach, and OAR.
Connecting Online
We are now open for in-person worship at our Sunday 10:00am service. See above for details. We will continue to offer our worship services online as a live stream each Sunday as well.
If you're interested in subscribing to Highland Highlights, our weekly email that contains all of our latest announcements and news, please contact the church office.
To learn more about our Sanctuary Church status, click here.
Visit our YouTube channel to see recent Sunday Worship services, Sunday morning previews for children and youth, and Progressive Christian Bible studies.